Watch this 2 min introduction video:
Introduction
A must-have tool for every Forex trader. We all know how critical it is to catch the strong trends in Forex. Trend is your friend! This EA will make your trading much easier by readily showing you which currency pairs have strong trends – right in your MT4 charts!
The latest version can also send you email / phone alerts whenever a new strong trend starts developing. This version also shows the active trend-based signal.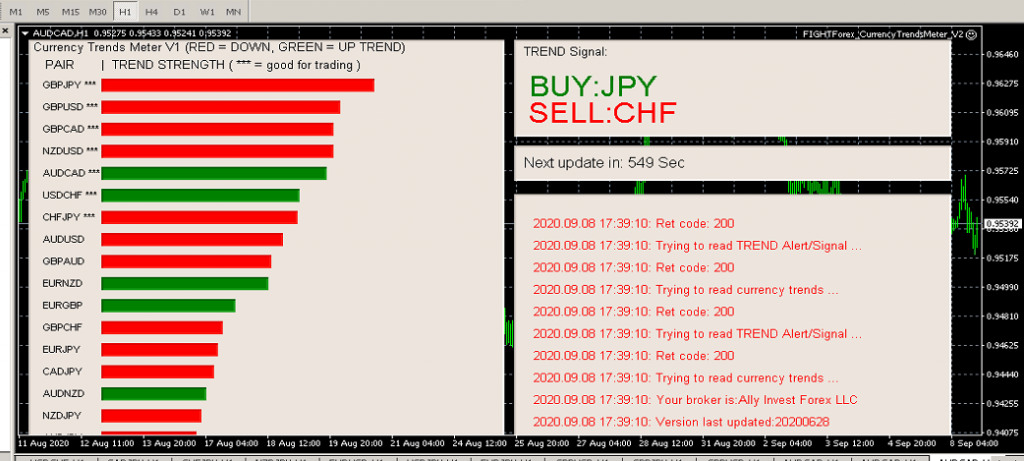 Read rest of this page carefully as it explains the features and various other details about this EA.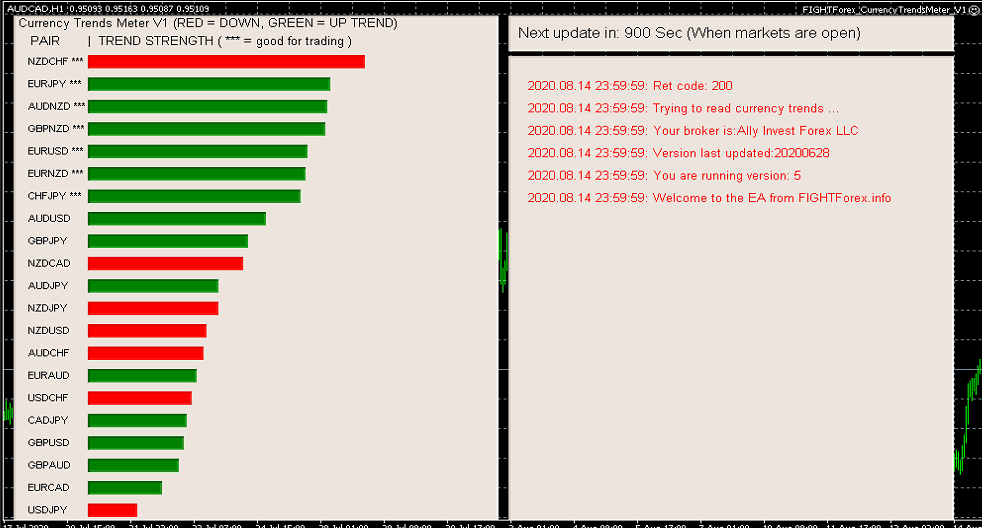 How does this EA work?
We monitor trends in all currency pairs along 4 different timeframes (15 min to 1 day) on our website. We keep doing this round the clock so you don't have to.
This EA runs on your MT4 chart (any chart is fine). It keeps reading currency trends data from our site via an API call every 10 to 15 minutes. The EA then shows the latest data in bar chart format (as shown in the picture).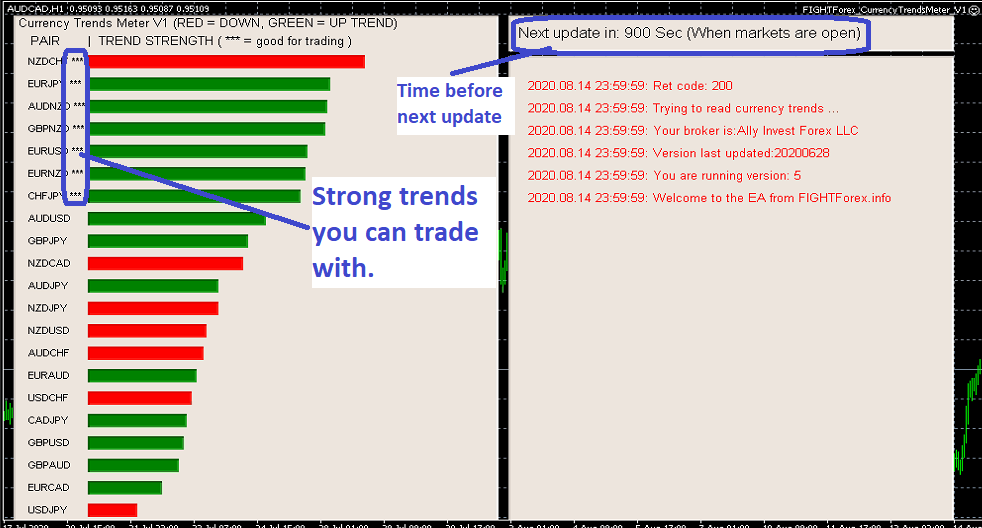 As you can see in the picture above, this EA shows the currency trends in descending order of their trend strengths. Longer the bar, strong is the trend for the pair shown. RED means the trend is downwards and GREEN means the trend is upwards.
It also tells you which trends are strong-enough that you can look at them for possible trading opportunities. Strong trends are shown with a *** symbol next to the currency pair. While this is a good indication, this is only meant as a suggestion or recommendation. You should not take this as a trading advice. You should always do your own research and testing before placing actual trades.
Another important feature to note is that it also shows the time left before next update. This time is pre-set and cannot be changed by the users in current version.
Data is read via a simple API call from the EA to our database. For this to work, you need to add our URL to the list of allowed URLs in your MT4. We have created a step-by-step guide on how to do this and it is available as part of the readme file that you get when you download the package. We also have a helpful video on our YouTube channel that shows you how to do this.
You will also need to get an API key that is unique to you so we know that the API call is coming from an authorized source. Don't worry. We will create one for you once you make the payment and send along with the package. If you already have an account with us, you already have the API key. You can get it from the members area.
Every time this EA reads the currency trends from our online database, it is counted as one API call. You will get 100000 API calls quota with your purchase. Once your quota of API calls is exhausted, you need to buy additional if you wish to continue to use the EA.
Latest version V2 also shows currently active trend signal. This version can also be setup to send you email and phone alerts. The readme file will explain you how.
Version comparison
| Feature | V1 (Free version) | V2 (Paid version) |
| --- | --- | --- |
| Shows currency trends meter | YES | YES |
| Shows next update time | YES | YES |
| Shows log | YES | YES |
| Shows trend-based trading signal | NO | YES |
| Send email notification and phone alert? | NO | YES |
| API calls quota included * | 10000 (good for approximately 2 months) | 200000 (good for upto 40 months) |
* You must create an account at our main site to get API key. API quota is added to this account. You can buy more @ $1 per 10000 calls.
How to get this EA?
V1 – Free version
V2 – Paid version – $49.99 / License


You can make a purchase using the button below. You will be taken to our online store powered by Square (we use Square to process payments).

BUY HERE

PLEASE ALLOW 2-3 BUSINESS DAYS FOR US TO VERIFY YOUR PURCHASE AND SEND YOU THE DOWNLOAD LINK.

Check your SPAM folder as our emails may go there.
Disclaimer – by buying this software or any other software on this site, you agree that you will not hold maker of the software responsible for any kind of outcome. You also agree that you have read the risk warning at the bottom of this page.
Installation help video
Watch the following video to understand how to install this EA in your MT4 chart and start using it.
This video is made for V1 but it applies to V2 also. Once done with this basic installation, you can watch the videos below to understand how to setup phone and email notifications in MT4. Version V2 is capable of sending email and phone alerts.
Video on how to send phone notifications via MT4:
Video on how to setup email notification in MT4 for free:
15979 Total Views
1 Views Today