---
Download demo version (Live version is $99.99 per MT4 account – Live version fee is non-refundable – test thoroughly first before buying)
Download the demo version below. As name suggests, demo version works only on demo accounts and in backtesting mode on demo or live accounts.
---
Introduction
I have developed an EA for MT4 that trades based on zigzag indicator and uses Martingale technique to continue to steadily grow your trading account. Since it uses martingale method, it can run into big drawdowns. In order to avoid serious losses, it has built-in protection where it gets out of the losing trades at a certain point to avoid account blowout.
Please read the main requirements below before you download and test it.
Main requirements:
You should run this EA on H4 timeframe only. Don't run it on any other timeframe.
It is best to run the EA on all 28 major pairs plus Gold if you decide to do live testing. Unfortunately, EA cannot be back-tested on multiple pairs in MT4 back testing facility. So live testing is the only way to see the true potential of this EA (refer to our verified myfxbook charts below for results achieved during live testing for more than 20 months combined on IG.com and Forex.com accounts).
Please don't change any of the inputs. Use default values as they seem to give the best results.
Use lotsize of 0.01 for every 5K of account balance if you plan to run this EA on multiple pairs. This way the EA will not result in very high drawdowns or stop out conditions.
This EA follows all the rules that are usually in place for US-based traders. So it is ok to run it on any broker. Best results were seen on IG.com and Forex.com accounts as shown in the test results below.
EA is tested on Forex.com and IG.com so far. It is also tested on ThinkMarkets but not on any other brokers. You should test on other brokers before putting the EA on live account.
---
Live trading results on Forex.com live account:
Here is our live Forex.com account with actual performance from May-22 till Jan-23.
Live testing on IG.com demo account:
This is my IG.com demo account from Dec-2021 till Jan-2023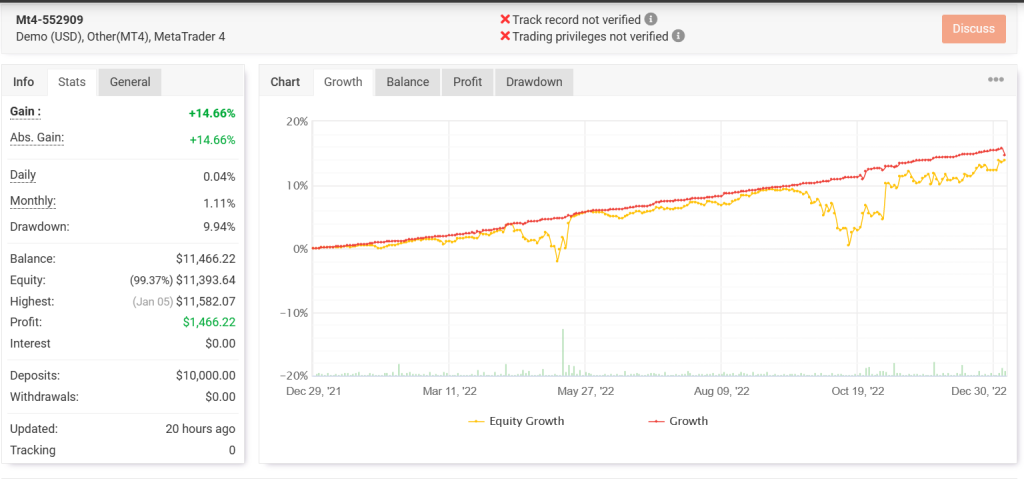 ---
Download Live Version
Have you done enough testing? If so, please contact us for live version. Note that Live Version is sold at $99 per MT4 account license. It will work only on the account that you specify after your payment is successfully processed. We cannot provide any refund for the live license. We cannot change the account number once the version is sent over to you. There are no exceptions please!
Ask all your questions upfront.
1155 Total Views
1 Views Today